DISCOVERING GRAN CANARIA
Attractions
Visitors arrive at the third largest island of the Canaries Islands in their thousands. Some come for the incredibly healthy climate, and revitalizing mountain walks such as the area area around Roque Nublo. Others delve into the history, mirroring the footsteps of Columbus in Las Palmas. But most seek a secred trinity of sun, sand and sea. For these you can find it Puerto Rico, Playa del Inglés.
Gran Canaria is only the third-largest island in the Canaries' archipelago, but accounts for almost half the population. It lives up to its reputation as a miniature continent, with dramatic difference from the green north to the lush mountainous interior and the desert south. You can also run headlong into three, four seasons in one day, with microclimates dotted around the coast and hills that can transport you from piercing sunlight into clammy fog banks at the drop of a hat. To capture a sense of Gran Canaria's breathtaking diversity, head to beautiful Cruz de Tejeda, or Mirador de Fataga.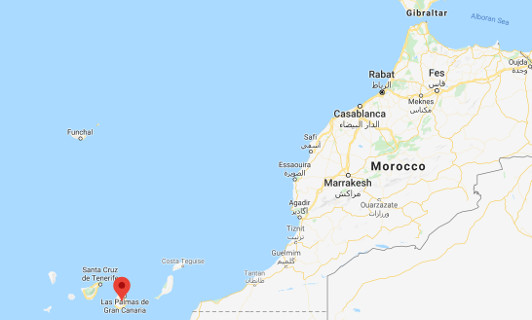 Putting on the map
Gran Canaria lies in the Atlantic Ocean to the west of Morocco in Saharan Africa. (The Canarian Islands include seven islands. The 2 closest to Gran Canaria is Tenerife, and Fuerteventura.).
Gran Canaria is located about 150 kilometres off the northwestern coast of Africa and about 1,350 km from Europe. The island is of volcanic origin, mostly made of fissure vents. It has a round shape, with a diameter of approximately 50 km and a surface area of 1,560 km2. Gran Canaria's maximum elevation is 1,956 metres at Morro de la Agujereada, although the nearby Pico de las Nieves has traditionally been considered the island's tallest peak.
The island is divedid by a mountain range into two climatic zones. The northern part is more humid, while the southern part is dry and hot. The island's landscape displays the same diversity, with the northern and western coasts steep and rocky, and the eastern and southern slopes falling gently towards the sea.
Gran Canaria enjoys a mild climate throuhout the year, with an average air temperature of 21°C. Water temperature is a bit colder than average in this area, due to a cool current flowing from the Gulf of Mexico. The Island offers a multitude of toursit attractions. Las Palmas has museums and historic buildings, and own beach, Las Canteras. The south has golden beach as Playa del Inglés, Puerto Rico, and others. In contrast, in the rugged environs around Roque Nublo hikers can follow in the footsteps of the Guanches.
Historical places
Nature sights:
Beaches:
Playa del Ingles Apartments: